PEACE & BLUES & 2CVS
Extraa
LINKKEJÄ JA TARPEELLISTA TIETOA
LINKS AND USEFUL INFORMATION
- Haluaisitko sponsoroida tapahtumaamme- ota yhteyttä, kiitos.
- Would you like to sponsor our event, if so please contact us!
--------------
DOWNLOADS
> Download advertisement for your club magazine or website (hires jpg) - Lataa tapahtumamainos
> Lataa tapahtumamainos suomeksi - Event ad in Finnish (PDF)
Tiedotusvälineille - Press Material:
- Lehdistötiedote (PDF)
- 2CV Blues -logo hires. jpg
- Valokuvia - photos (hires jpg):


-

-

-

-

-

-

HOW TO COME TO FINLAND
(vinkkejä ulkomaalaisille tulijoille)
The Finnlines ferry from Travemünde (D) is easy, but not really cheap (>look at their offers). They also run Rostock (D)-Helsinki, Travemünde-Malmö (S) and Kappelskär (S)-Naantali (FIN).
A popular route is travelling through Denmark and Sweden and then a ferry from Stockholm to Finland (Helsinki, Turku, Naantali). Operators:Tallink-Silja, Viking Line, Finnlines)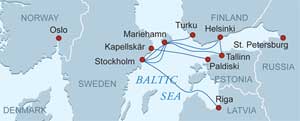 Also possible to travel via the Åland islands, if you have spare time. There are small ferries through the beautiful archipelago.
An option is driving all the way up to Lapland on the Swedish side - if you took the bridge Denmark-Sweden, you don't need ferries at all. There is a short ferry link Umeå(S) - Vaasa (Wasaline).
The cheapest would probably be via Baltic counties, then Tallinn (EST)-Helsinki by boat (Tallink-Silja, Viking Line…). There are also roads to St.Petersburg (RUS), but few people use this connection.

It is about 600 km from Helsinki to the meeting, it is possible to do in one day, if needed. Fast quiet roads in the North and you can enter the meeting anytime in the enlightened night!
Just 333 km more to the Arctic Cirle and 1000 km to North Cape.
>Links to the main ferry companies:
http://www.directferries.co.uk/finland.htm
INFORMATION ABOUT FINLAND - SUOMI-LINKKEJÄ
http://www.visitfinland.com
http://www.expat-finland.com
http://www.finland.com/
http://www.suomi.fi/

THE WEATHER - SÄÄ
> http://en.ilmatieteenlaitos.fi/weather/kajaani/vuolijoki
--------------
> 2CV-Bluesin historiaa - History of 2CV Blues 1996-2014
---------------
FORUMS - KESKUSTELUT
(Foorumit saattavat vaatia rekisteröitymisen lukemiseen)
(The forums may require registration to enter)
>international2cvfriends.com
>Snail forum
>ITALIA - 2cvclubitalia.com
>DEUTSCHLAND (Germany)- 2cvforum.de
>FRANCE - forum2pattes
>SVERIGE (Sweden) - citroenakuten.com
>NORGE (Norway) - 2cvforum.no
>DANMARK - citronik.dk
>BELGIUM - la2cvmania
>NEDERLAND - forum.2cv.nl
>SUOMEN 2CV-KILLAN FOORUMI
>Discussion (mostly in Finnish) about the event
>facebook group (Rättäri - Citroen 2CV)
> facebook event site
>Suomen 2CV-Killan kotisivu
>The Homepage of Finnish 2CV Guild:
http://www.2cv.fi/
-------------
CONTACT: fin2cv-at-saunalahti.fi, citikkahullu-at-gmail.com
> ENNAKKOILMOITTAUDU NYT!
> MAKE YOUR PRE-REGISTRATION NOW!
Tervetuloa Welcome -> Onnela Holiday Farm
Onnelan Matkailumaatila
GooglGoogle maps: Salmenrannantie 882, FI-88270 Vuolijoki - N64°16.767' E026°52.482'

Suomen 2CV-blues-fanit / 2CV Blues Enthusiasts of Finland
Basic information in other languages - lyhyesti muilla kielillä::
English - Svenska - Deutsch - Français - Nederlands - Espanol - Italiano - Suomi