Raid Mosquito Online Diary
---
---
SWEDISH DIY TRACTOR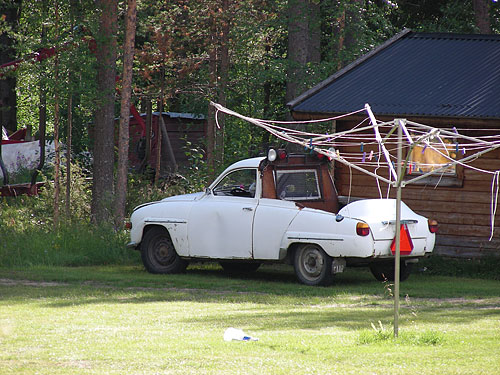 SWEDISH DIY TRACTOR
Story by Nalle

Years ago some youngster noticed, that daddy's old Volvo (or Saab) can easily be modified into a tractor - to drive that you don't need a driving licence, you only need to be 15 yrs or more.

This is how to do it: take away the back seat (no passengers allowed). Add another gearbox, where you have welded the first gear stuck so that it's always on. That way the max. speed will be only 50km/h. Cut a hole to the back of the car to get a carriage platform. Then glue a warning triangle for tractors to the rear bumber, and you're ready to rock'n'roll!

This vehicle is rather popular in Northern Sweden, because especially in the wintertime it's much warmer than a moped!
| | |
| --- | --- |
| 24 Jul 2007 by BMOG | 0 comments |
Meanwhile, maybe you want to read the diary of the last Raid Laponie in 2004.
http://www.sitruuna.com/raidlaponie/diary.html
We try to do the updates daily, but the GSM network in the Northern deserts can sometimes be limited.
---
Copyright Raid Mosquito 2007. Mulqvist & Mulqvist Productions 2006