Life is too short for raids without challenges
- let's do the Mosquito!
The 3rd Raid Mosquito will take place in July 2007. Our destination is the 17th International Meeting of 2CV Friends in Borlänge, Sweden. We just make a short 4000 km detour to Lapland first.
We are expecting about 40-50 Citroën 2cvs to take part in this trip. The raid is especially dedicated to overseas visitors of Scandinavia and the participants come from all over the world including Alaska, Australia, New Zealand for example.
The interest in the 3rd Raid Mosquito has been great althought 2007 seems to be a long way ahead.At the moment we cannot directly accept any more participants, because we have received so many preliminary registrations and enquiries. We can only take new teams into a "waiting list" and let the candidates know of the possibilities to participate later.
If interested, contact us.
"Raid Mosquito Qualification Test"
If you can't hear the Mosquito, you can unfortunately not participate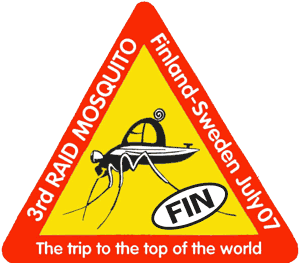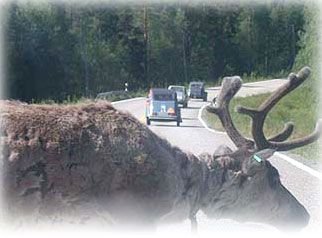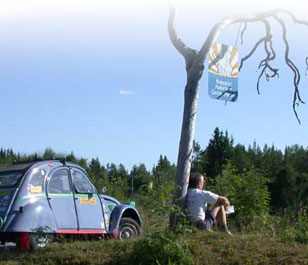 3rd Raid Mosquito
– the trip to the top of the world.
The raid starts July 8th 2007 at Vehu. We will cruise into the unigue Finnish lake-area, visit the famous 2CV Blues meeting and later head to Lapland. It is possible to visit the North Cape although our official route will no go that far. Short daily distances, some cultural, historical and natural sightseeings are the ideas for the raid and also enjoying sauna and midnight sun. Finally we will drive South to the 17th International Meeting of 2CV Friends starting July 24th 2007.
Raid Mosquito is dedicated especially for Citroen 2CVs and derivates. As we are getting a lot of participants from places like Australia, we cannot demand that everyone would bring their own car. We are flexible and understanding if some rented cars are involved. With a little luck that could even be a 2CV.
Cheers! BMOG
(The Bloody Mosquito Organizing Group)