Raid Mosquito Day by Day
---
---
sunrise at 02:31 - sunset 00:41 (next morning) - MIDNIGHT SUN!
You could take the direct route North, but we think a visit to Rovaniemi is worth while. Rovaniemi is the capital of Lapland, though situated right in the South of the territory. We must visit Arktikum and see their unique exhibitions of Arctic nature. Santa Claus also has his all-year-round office at Arctic Circle in Rovaniemi.
In Luosto (along road 962) you could visit the Lampivaara Amethyst mine. It is one of the few jewellery mines open to public. You can even dig amethyst yourself (at extra cost).
We have been invited to camp on the grounds of Finnish Meteorological Institute (FMI) in Sodankylä. They for example make serious international research on Ozone Loss and other hot weather topics. FMI is of course best for daily weather forecasts for Finland.
Nearby, there is also another institute called Arctic Academy specializing on Polar Lights (Aurora Borealis). They arrange audiovisual Polar Light shows which could be quite interesting.
By the way, the duration of daylight now should be practically 24 hours so seeing polar lights is hardly possible although they should be in a very active phase year.
OVERNIGHT at "Tähtelä" observatory area. The area is not a regular camping place! But plenty of space between pine trees. Good for tents and also vehicle accommodation. We can offer at least WC for ladies and men separately, maybe more. Sauna on the river bank is in use. Also a Lappish cottage (room approximately for 20 people inside) and an open grill fire in front of the sauna. No fires possible in any other places! The area is in observatory use; please avoid some of the instrumentation and keep some distance to them.
LOCATION: The area is on the east side of river Kitinen about 7 km south from Sodankylä village (not city!). There are maybe other ways to come, but the easiest is to start from village. On the road towards Kemijärvi still near the village the road to Tähtelä is well indicated. Also a small airport is in the sign. After about 6 km on the right is the sign to Tähtelä. There after also Mosquito signs are visible! You will see "Tähtelä" also in our map books. GPS coordinates 67.368 °N, 26.633 °E.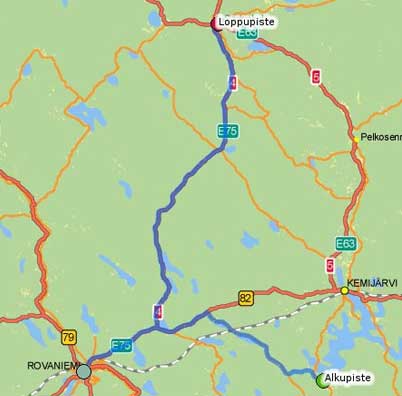 ---
Copyright Raid Mosquito 2007. Mulqvist & Mulqvist Productions 2006