PEACE & BLUES & 2CVS
18.-20.7.2014
LIITY MUKAAN- JOIN US
PEACE-PASSI:
32 eur / aikuinen - nuoret 12-17 v: 10 eur - alle 12 v ilman (koko tapahtuma-ajalta)
Sisältää musiikkipitoisen festariohjelman, majoituksen teltassa / kulkimessa sekä saunomiset. Lisäksi saat kulkimeesi numeroidun ison tapahtumatarran sekä pikkutarrat maksavien henkilöiden lukumäärän mukaan.
Olisi mukava kuulla tulostasi:
2cvblues-at-gmail.com (puh. o4o 7364l4l)
Maksaa voi myös ennakkoon tilille FI48 3939 0020 4965 27 (Päivi Lehtikunnas).

Tai sitten ilmoittaudutte perinteiseen tapaan paikan päällä: TERVETULOA!
Respa aukeaa perjantaina 18.7. alkuiltapäivästä.
Saataisiino sadan paikalle tulevan kulkuneuvon raja rikottua?

Telttatilaa hehtaarikaupalla, sisätilaa rajallisesti: sisämajoitus varataan ja maksetaan suoraan Onnelaan: Puh. 040 672 6417.
Onnelasta keittoruoka lauantaina 7,50, aamupalaa la/su 6 eur.
Ilmoitathan ruokailuistasi ilmoittautumisesi yhteydessä,
jotta osaavat varautua (myös erityisruokavaliot).
Kahvila / Pub Paalupaikka palvelee aamusta yöhön.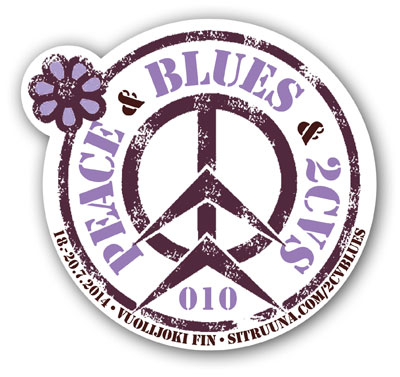 Numeroitu tapahtumatarra - numbered meeting sticker (ø 15 cm)
------
PEACE-PASS 32 eur / adult - youngsters 12-17 years: 10 eur - under 12 years free of charge (the whole event long).
Pay on arrival at the site. The reception will be opened Friday 18.7. early in the afternoon.
Includes the versatile festival programme, a spot for your tent and car to stay overnight and the use of saunas. You will also receve a large numbered event sticker for your car and smaller stickers according to the number of paying persons.
It would be nice to hear, if you are coming:
2cvblues-at-gmail.com
Or just come and register at the meeting entrance, Welcome!

Plenty of camping space. If you need indoor accommodation, Onnela has a limited number of rooms available.
Soup meal from Onnela on Saturday 7,50 eur, breakfast Sat/Sun 6 eur. Pleace let us know, if you want mea s(also special diets) when you email your registration.
Cafe / Pub "Paalupaikka" on site from morning to late night.
-----------
Muut tiedustelut / Other event information:
fin2cv-at-saunalahti.fi,citikkahullu-at-gmail.com

Facebookissa voit myös "liittyä" tapahtumaan sitoumuksetta. Otamme myöhemmin siellä ilmoittautuneihin yhteyttä ja joka tapauksessa saat fb:n kautta ilmoituksen aina, kun uutta sisältöä lisätään.
You can also "join" the event on facebook (this is nor binding you in any way) and after doing so we will be in contact with you later about details of registration. In any case, you will be notified each time new content will be added on the fb event site.
-----------
Tervetuloa Welcome -> Onnela Holiday Farm
Onnelan Matkailumaatila
Google maps: Salmenrannantie 882, FI-88270 Vuolijoki - N64°16.767' E026°52.482'

Suomen 2CV-blues-fanit / 2CV Blues Enthusiasts of Finland
Basic information in other languages - lyhyesti muilla kielillä:
English - Svenska - Deutsch - Français - Nederlands - Espanol - Italiano - Suomi