PEACE & BLUES & 2CVS
18.-20.7.2014
VUOLIJOKI, SUOMI-FINLAND
Legendaarinen "2cv Peace & Blues" järjestetään jälleen neljän vuoden tauon jälkeen. Tule viettämään hulvatonta musiikkipitoista 2cv-viikonloppua kansainvälisessä seurassa Vuolijoelle Oulujärven maisemiin.
The legendary "Peace & Blues & 2cvs" meeting will be arranged again after a 4 year break! Welcome to enjoy groovy music and 2cv companionship in a peaceful lake environment in Northern Finland. Up here the whole night will be enlightened for us to party.
Special invitation to our foreign frends to join the venue again!
> TERVETULOA - WELCOME!
10. 2CV-blues juhlatapahtumaan!
to the 10th jubilee event od 2CV-blues!
Saataisiino sadan paikalle tulevan kulkuneuvon raja rikottua?
>Ohjelma julkistettu
>Program released
----------
CONTACT: fin2cv-at-saunalahti.fi,citikkahullu-at-gmail.com
Tervetuloa - Welcome -> Onnela Holiday Farm
Onnelan Matkailumaatila
Google maps: Salmenrannantie 882, FI-88270 Vuolijoki - N64°16.767' E026°52.482'

Suomen 2CV-blues-fanit / 2CV Blues Enthusiasts of Finland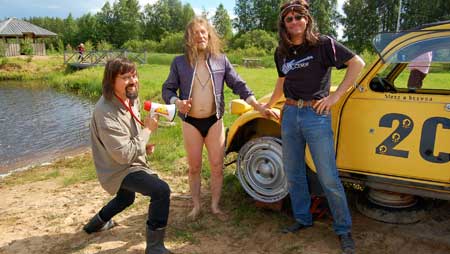 updated 140714
Mulkvist & Mulquist Productions International