PEACE & BLUES & 2CVS
18.-20.7.2014
PROGRAMMI
PERJANTAI 18.7 FRIDAY
RESPA aukeaa alkuiltapäivästä - RECEPTION will be opened early afternoon
18.30 - 20.30 MIIA & SILUETTI / latotanssit, barn dance (lato/barn)
20.30 - 21.30 RUSTMAN trubaduuri (Onnela-Areena)
21.30 - 22.45 SLOWLY RIDERS BAND (Onnela-Areena)
22.45 - 00.30 SWEETTALKERS (Onnela-Areena)
Transit-sauna rannassa eli sekasauna simmareilla.
Transit sauna on the beach (mixed, with swimming suits)
LAUANTAI 19.7 SATURDAY
09.00 - 14.00 KIRPPIS / ROMPETORI - FLEA MARKET
11.00 - AJAJAKOKOUS (infoa tapahtumasta, lato) - INFO SESSION at barn
12.00 - 13.00 2CV-VESIHIIHTO - 2CV WATER SKI
14.30 - 16.00 JAZZ JAMSESSION (lato/barn)
16.00 - 17.00 2CV JAMIT - JAMSESSION (lato/barn)
17.00 - 18.00 VAS DIS ASH (Onnela-Areena)
18.00 - 19.00 FROZEN DUCKS (lato/barn)
19.00 - 21.00 THE DEFENDERS (Onnela-Areena)
21.00 - 22.30 THE LOCKKERS (Onnela-Areena)
22.30 - 00.30 AFTER IT (lato/barn)
SAUNAVUOROT sisäsaunassa: 15.00 - 18.00 naiset, 18.00 - 21.00 miehet & Transit-sauna rannassa eli sekasauna simmareilla.
SAUNAS: indoor sauna 15.00 - 18.00 women, 18.00 - 21.00 men & Transit sauna on the beach (mixed, with swimming suits)
SUNNUNTAI 20.7 SUNDAY
10.00 - Arpajaiset, palkitsemiset mm. hippipersoonat & hippikuljin, 2CV pakut & HY:t näytille
10.00 - Lottery, prizegiving, e.g. the best hippie persons & hippie car, 2CV vans & HYs on display
RUOKAILUT ONNELASTA - MEALS FROM ONNELA
Aamiainen la & su - Breakfast sat & Sun 8.00 - 10.00, 6 eur
Lauantaina lounas - Saturday lunch 13.00 - 15.00 - 7,50 eur
Ruokailut maksetaan suoraan Onnelan henkilökunnalle
The meals are paid directly to Onnela's personnel
P & B LÄTTYKOJU TARJOAA PE & LA ILTOINA - PANCAKES FRI & SAT EVENINGS
Lätty hillolla tai sokerilla 1,00
Pancake 1 eur (with jam or sugar)
Kahvi / tee / mehu omaan mukiin ilmaiseksi
Coffee / tea / juice for free, but bring your cups
SAATAVANA MYÖS... ALSO AVAILABLE
Peace & Blues T-paita - Teeshirt 14 eur
Tapahtumatarra - Meeting sticker 1 eur
Arpoja - lottery ticket 1 eur, 6 kpl/pcs = 5 eur
>Esimakua bändeistä - >Foretaste of the bands!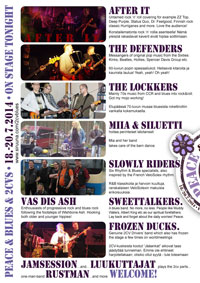 >Oulunjärvi ja Manamasalo kivenheiton päässä. Sinne pääsee kätevästi lossilla.
>Unique Lake Oulu with sandy beaches next door (free road ferry crossing). Lapland is also just a stone throw away: 333 km to go to the Arctic Circle and 1000 km to North Cape.
----------
>Telttatilaa hehtaarikaupalla, sisätilaa rajallisesti: sisämajoitus varataan ja maksetaan suoraan Onnelaan: Puh. 040 672 6417.
>Kahvila / Pub Paalupaikka palvelee aamusta yöhön.
>Plenty of camping space. If you need indoor accommodation, Onnela has a limited number of rooms available.

>Cafe / Pub "Paalupaikka" on site from morning to late night.

2cv water ski video from 2010
---------
CONTACT: fin2cv-at-saunalahti.fi,citikkahullu-at-gmail.com
tervetuloa Welcome -> Onnela Holiday Farm
Onnelan Matkailumaatila
Google maps: Salmenrannantie 882, FI-88270 Vuolijoki - N64°16.767' E026°52.482'

Suomen 2CV-blues-fanit / 2CV Blues Enthusiasts of Finland
Basic information in other languages - lyhyesti muilla kielillä:
English - Svenska - Deutsch - Français - Nederlands - Espanol - Italiano - Suomi