Latest news in red. We can also add your links and comments here.

200109 - We have already been notified at the pages of YLE (Finnish TV).
Our News Release in Finnish can be downloaded as Word document
190109 - Anke & Andreas unfortunately had to cancel.
All teams will be provided prints of the Route Plan & List of Participants at start.
Some anti-freeze stuff for petrol and windscreen washer will be sponsored by Berner.
Sitronen Oy will sponsor us with some spare parts.
160109 - Updates on Days 23.1., 29.1. and 30.1.
List of participants emailed yesterday. Some updates received and we will provide you a print at start.
140109 - Pat & Helmut unfortunately had to cancel.
Temperatures down to -37 near Saariselkä, but this no guarantee of what the weather is like when we arrive. It´s going up and down all the time.
T-shirt orders sent out, a few extras will be made in case someone was too late with the order.
130109 - Updates on "Day 0". Suggestion of a pre-raid Helsinki-Loukee with Veikko. Also email sent about this. The overnight cost including evening snacks and breakfast is there too.

130109 - Peter and Henry have a diary page as well now:www.2cv4x4.com/poronkusema_t14.php

120109 - Mark will bring some raid calendars for all teams. These calendars are sponsored by the4rgroup. Thank you.
Do not look at the weather in Finland today, very frustrating heatwave above us, but the temperatures will drop again later this week.

080109 - Alain & Nille (B) has organised a kind of sponsorship "Poronkusema for Homeless".
The idea is, that people can sponsor an amount of money (in Eurocent/km) for each kilometer that they will drive. The total sum will be send to an organisation in Antwerpen for homeless people. Alain visited them a few weeks ago. There is a (very) small website about it, unfortunately, it's only in Dutch (but go to translate.google.com)

060109 - You can now also follow up the news page of Team 4, Mark & Rick: www.2cv4x4.com/poronkusema.php

050109 - There was a good document about the reindeer in the Finnish TV last weekend. It is actually production of BBC (Natural World). It tells about the migrating life of a Sami family in Norwegian Lapland moving their reindeer herds to summer fields. The interviews are in English, but unfortunately the commenting is in Finnish only.
It can be seen in the internet for about one week:
http://www.yle.fi/java/areena/dispatcher/1757231.asx?bitrate=1
It has been cooling down here (and in Central Europe aswell). Morning temeperatures of -20 has been usual even in the Southern parts of Finland. Hopefully it stays this way. Generally speaking the winter has not been too cold so far, but a little better than last year. Check weather in Mikkeli at the moment (our start).
Some changes in the list of participants. Frans now has a Finnish co-river, Kimmo Salonen (who runs a Citroen spares shop in Finland).
301208 - E-mail sent to raiders about "admin fee" payment to be dome by 5th January 2009
211208 - Updates made to Route Plan on different dates
191208 - Toppo can not arrange the holidays for his raid :-( , but he will be our webmaster and most likely he will meet us all at MiniRaid Vehu
171208 - The Italians are joining :-)
161208 - Sorry, Rauni & Nalle are not joining :-(
151208 - Raiders will be supplied with a prepaid GSM card by "DNA" during the Raid Poronkusema. These cards will have 20 e worth airtime, i.e., 1 hour 25 minutes (0.16 e/min, 0.06 e/SMS). Prepaid cards are valid in Norway, too. The call time is more expensive.
You need to have a dual band non-simlocked mobile phone.
You can easily reload more airtime into your dna Prepaid Subscription on the Internet, via an Otto cash point or by buying a Refill Voucher. Refill Vouchers are sold, e.g., at dna Shops, R-Kiosks, and Shell Select Shops.
You can easily check your subscription's remaining credit by entering *100# and CALL button (free of charge in Finland and abroad). You can also check the remaining balance on your Prepaid Subscription by sending the text message BALANCE to the number 126 666. The reply message nwill tell you the balance of airtime remaining on your Prepaid Subscription.
More info at:





... and that's not all my fellow reindeerists! Sponsors keep piling up like snow in Lappilandia - may we proudly present Jokisen Valinta, the home of all sorts of Reindeer & Humppa oriented stuff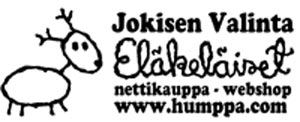 141208 - First version of Online Diary available. Sunrise and sunset dates added to Route Plan
141208 - List of participants and enquiries e-mailed to all participants. Did you get it, please reply asap. More participants joining...see team list
141208 - Problems with the Swedish fish...read more


131208 - We are planning a nice common special dinner at Hailuoto (the island close to Oulu) and are going to get a proposal from locals. The price should not bee too high, we have been talking of an moose meat meal with a salmon alternative. I hope this sounds like a good idea?
131208 - Direct links to the PDF documents of preparations and information (copyright of Raid Laponie, old stuff, but still valid): 2CV preparations - Driving training - The reindeer - Clothing - Northern lights
131208 - Check weather of Saariselkä and snow depth here
131208 - New participants in the team list
121208 - Weather Cameras in Finland
111208 - Raid Poronkusema has now an official sponsor, Finnish gsm-operator DNA! Pre-paid GSM cards available for the raiders (bring another phone for this), details later.

101208 - Raid Mosquito website opened