EXTRA LINKS AND USEFUL INFORMATION
Linkkejä ja lisätietoa

HOW TO COME TO FINLAND
(vinkkejä ulkomaalaisille tulijoille)
> It is about 320 km from Helsinki to the meeting.

The Finnlines Ro-Pax ferry Travemünde (D) - Helsinki (FIN) is easy, but not really cheap (>look at their offers). But they also run cheaper alternatives Travemünde - Malmö (S) and Kappelskär (S )- Naantali (FIN).
The popular route is travelling through Denmark and Sweden (bridge or ferry) and then a by boat to Finland (Helsinki, Turku, Naantali). Operators:Tallink-Silja, Viking Line, Finnlines).
The cheapest could be the way via the Baltic counties and ferry Tallinn (EST )- Helsinki (Tallink-Silja, Viking Line…). This is also the best way to go to Poland after the meeting.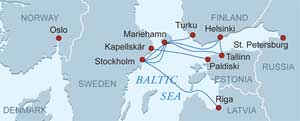 > Another good overall Baltic Sea ferry site including ferries Poland-Sweden etc.

It's also possible to travel via the Åland islands, if you have spare time. There are small ferries through the beautiful archipelago.
There is a short ferry link more North: Umeå(S) - Vaasa (Wasaline).
Main ferry companies: http://www.directferries.co.uk/finland.htm
Finally, you can skip all the ferries by driving up to Lapland through Sweden and then down Finland to the South.

Information about Finland - Suomi-linkkejä:
Official Travel Site - virallinen matkailusivu
About traffic in Finland - liikennetietoa
Facts of Finland - Suomi-faktaa
> Puumala information
> Lake Saimaa area travel information - Saimaan alue
> Mikkeli area travel info - Mikkelin alue
>Puumala on facebook - Puumala facebookissa
> Read 38 Reasons You Should Never Visit Finland :-)

Downloads & press:
> Lehdistötiedote (press release in Finnish)
>Download event log- lataa tapahtuman logo
> Photos - valokuvia (hires jpg):



-

> Puumala area map > Puumalan aluekartta
> Puumala village map > Puumalan taajaman kartta
> Puumala brochure
> Niinisaari area brochure > Niinisaari Saimaalla
> Puumala Program > Puumalan kesäohjelma
The weather - Sää
> Weather in Puumala - Puumalan säätila

Discussions - Forums - Keskustelut
(Foorumit saattavat vaatia rekisteröitymisen lukemiseen)
(The forums may require registration to enter)
>international2cvfriends.com
>Snail forum
>ITALIA - 2cvclubitalia.com
>DEUTSCHLAND (Germany)- 2cvforum.de
>FRANCE - forum2pattes
>SVERIGE (Sweden) - citroenakuten.com
>NORGE (Norway) - 2cvforum.no
>DANMARK - citronik.dk
>BELGIUM - la2cvmania
>NEDERLAND - forum.2cv.nl
>Suomi - Finland -2cv.fi

-------------


>Slideshow from the 1st meeting in 1975 (thanks - kiitos, Tom)
CONTACT: fin2cv-at-saunalahti.fi

Back to Puumala on Facebook
-------------
>Back to sitruuna.com start page
Updated 260615