NEWS - UUTISET
BACK TO PUUMALA

> AFTER PUUMALA: THANKS - KIITOS to all participants!
>PUUMALAN JÄLKEEN: KIITOS kaikille osallistujille!
>Make your inscription now -Ilmoittaudu nyt!
Get a metal meeting plate for your 2cv.
Saat metallisen kokousplakaatin
> We are printing a limited amout of t-shirts. Available for 15 eur at the meeting - t-paitoja 15 eur/kpl rajoitetusti Puumalassa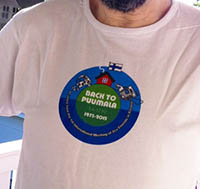 >DIRECTIONS TO FIND - AJO-OHJEET
>PRELIMINARY PROGRAM AVAILABLE
> Finnlines special offer to participants of Back to Puumala at reduced fares
>How to come to Finland
> Cabin accommodation - mökkimajoitusta
> Lehdistötiedote (press release in Finnish)


>Slideshow from the 1st meeting in 1975 (thanks - kiitos, Tom)
> Read 38 Reasons You Should Never Visit Finland :-)
More inscriptions - lisää ilmoittautumisia
At the moment we seem to have preliminary inscriptions from Australia, New Zealand, Germany, the Netherlands, Austria, Poland, Slovenia, Sweden, Hungary, Norway, Russia, Kosovo, France, Denmark and Finland.
Tällä hetkellä näyttää väkeä olevan tulossa ainakin yllä luetelluista maista.
The meeting will be the lucky crossroads of two international 2cv raids: "Raid Polar Circle - Poland" (contact:citrocello-at-post.tele.dk) and "Raid PPP" (fin2cv-at-saunalahti.fi). Both the groups are heading to Poland through the Baltic states following their own routes.
Puumalassa risteävät onnekkaasti kahden kansainvälisen 2cv-raidin reitit: "Raid Polar Circle - Poland" ja "Raid PPP" . Molemmat jatkavat Baltian kautta Puolaan omia reittejään.
Recommended PDF downloads -Llataa tästä
> Puumala area map > Puumalan aluekartta
> Puumala village map > Puumalan taajaman kartta
> Puumala brochure
> Niinisaari area brochure > Niinisaari Saimaalla
> Puumala Program > Puumalan kesäohjelma
Cabin accommodation available nearby
In Puumala, in connection with the 2cv meeting, if someone is interested in staying overnight in a cabin / modest room, it is possible 5 km away at Nestorinranta.
Prices are per unit and per night:
- 2 pers cabin room (Mari) 50 e
- 2 pers cabin room (Ville) 50 e
- 2 (+ 3) pers family cabin (Vilja-aitta) 65 e
- 4 pers room (Orsi) 65 e
- 2 pers room (Ylähuone) 80 e
- 2 (+ 2)  pers cabin (Tarun maja) 80 e
- 6 (+ 2) pers  cabin (Nestorin mökki)130 e
Extras: Bed linen 6 e, towels 4 e, cleaning 20-60 e/unit, breakfast 8 e.
10 % reduction offered, if the pre-reservation fee of 25 % is made by 22.6.2015. This reduction do not apply to Tarun maja and Nestorin mökki.
The reservations and payment directly to Riitta Viialainen <riitta.viialainen-at-gmail.com>, mention "Back to Puumala".
Mökkimajoitusta saatavilla lähistöltä
Noin 5 km Lintusalon koululta Nestorinrannassa on tajolla muutamia mökkejä ja huoneita yöpymiseen.
2 hengen aittahuonetta (Mari) 50 e
2 hengen aittahuonetta (Ville) 50 e
2 (+ 3) hengen perheaitta (Vilja-aitta) 65 e
4 hengen huone (Orsi) 65 e
2 hengen yksiö (Ylähuone) 80 e
2 (+ 2)  hengen Tarun mökki 80 e
6 (+ 2) hengen Nestorin maja 130 e
Lisämaksusta lakanat 6 e, pyyhkeet 4 e, loppusiivous 20 e/aitta/huone, 30 e/yksiö, 60 e/mökki; aamiainen 8 e.
Hinnoista saa 10 % alennuksen, jos varaus ja varausmaksu 25 % on suoritettu 22.6. mennessä (paitsi Tarun maja ja Nestorin mökki).
Varaukset ja maksu suoraan Riitta Viialainen <riitta.viialainen-at-gmail.com>, p. 040 510 6208, mainitse "Back to Puumala".
----------------------
Teemu Eerola is the "quardian" of our event.
Teemu acted as the "starter motor" by calling up a group of enthusiasts to organize the first ever International Meeting of 2cv Friends in Finland in 1975. He still enjoys driving his 2cv and will also come to Puumala accompanied by other veterans of the first meeting, to explain how all that started .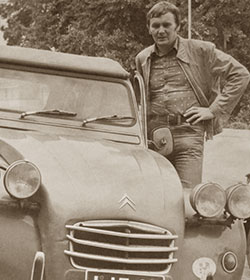 "We could never have imagined starting a tradition which is still alive after 40 years! Next summer, we wish to meet 2cv friends who attended the first meeting as well as many others from all over the world at Puumala" Teemu Eerola
Teemu Eerola on lupautunut tapahtuman "suojelijaksi".
Teemu toimi "starttimoottorina" kutsuessaan asiasta kiinnostuneita päättämään ensimmäisen Kansainvälisen 2cv-ystävien kokouksen järjestämisestä Suomessa. Hän viihtyy yhä 2cv:nsä ratissa ja saapuu myös itsekin Puumalaan selostamaan muiden 1975 miittingin veteraanien kanssa, kuinka kaikki oikein alkoikaan.
"Emme olisi silloin uskoneet synnyttävämme kansainvälistä perinnettä, joka on voimissaan vielä 40 v myöhemmin. Toivomme näkevämme ensimmäisen kansainväliseen osallistuneita sekä monia muita 2cv-ystäviä Puumalassa ensi kesänä" Teemu Eerola
Contact: fin2cv-ät-saunalahti.fi

Back to Puumala on Facebook
-------------
>Back to sitruuna.com start page
Updated 140815