---
Poronkusema happens 23.1.-1.2.2009
After Raid Laponie was laid to rest in 2004, there was increasing demand for a "Medium-sized-raid" in wintertime. This raid should be lighter to organize and especially targeted to experienced raiders who can take care of themselves (but there could be some newcomers as well). There wouldn't be so much organized programme, but as we all know, all raiders are very experienced in improvising.
The size of the group is mostly depending on the capacity of our overnight spots: 30 people or a little more could be a perfect size. Therefore, we are not making heavy advertising, but it is not forbidden to talk about this raid in public. At the moment the group is nearly full, but maybe a few people could be taken in.
The name of the raid "Poronkusema" refers to the traditional measuring unit of distance in Lapland - the reindeer piss. Should be max. 7.5 km or so, depending on the reindeer and the weight of the sledge.

The route takes us many poronkusemas above the arctic circle in the middle of darkest and coldest Nordic winter. Our "base camp" is Saariselkä; from there it's possible to make explorations even further North. The total driving distance is estimated 3000-3500 km.
last update 20.01.09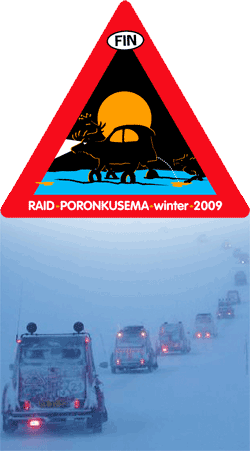 2CV convoy pic by Mark Lewis
Welcome, bienvenue, willkommen, tervetuloa etc!

---


Raid Poronkusema is dedicated especially for Citroen 2CVs and its derivates. The "Deux Chevaux" has proven several times to be the perfect choice for such winter adventures. You can sometimes feel the cool breezes of nature even inside. The air cooled engine is not afraid of the low temperatures and snowstorms and has been successfully tested in -44C on our Raid Laponie in 1998.

The roadholding of a 2CV is incredible, but let's be careful out there! There will be at least one team with a 4x4 model.
The participants come from Australia, Austria, Belgium, Britain, France, Germany, Holland and Sweden. The organizing team is from Finland, all members of the Finnish 2CV Guild.
The raid ends at "4th MiniRaid Vehu" 30.1.-1.2.2009. Check the website.
If you are interested or want to get information of us for some other reason, contact us

Participation is totally at your own risk and responsibility. the organizers do not promise or guarantee anything, just give their "good" advice to survive ;-)
Greetings,
Mediumraid Organizing Team (M.O.T)